Don Wright, RJC Academy Director
Naoko Brown, RJC Academy Assistant-Director
Anne Crescini's Introduction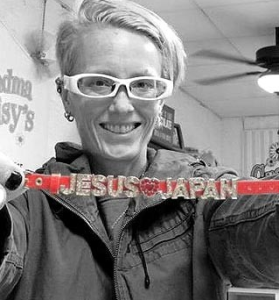 Anne has been teaching English at a university in Fukuoka Prefecture since 2004. She got involved with RJC during her sabbatical year in the U.S. in 2014, and she really wishes Taco Bell would open a restaurant in Fukuoka.
In addition to teaching, she has written four books on Japanese culture, two memoirs, two English language textbooks, and one guidebook for foreigners living in Japan. They are all available on amazon.com. She also enjoys regularly blogging about Japanese culture, and devotes much time to helping with various ministries at her home church, Munakata Bethel Christian Center in Munakata City, Fukuoka Prefecture. She was honored to give a seminar on the Japanese worldview and religious beliefs at the 2015 RJC Conference, and one on reaching fringe groups in Japanese culture in 2016.
Anne's husband, Riz is a lifestyle photographer working both in Japan and the U.S. Her three daughters, Mia (10), Abby (9), and Emmy (7) were all born in Japan and are attending Japanese schools. 
Anne, Riz and the kids love the U.S. but know that Japan is home, and are committed to reaching the Japanese people with the life-changing Gospel of Jesus Christ.
Read her blog here.