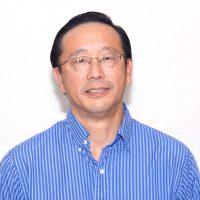 Keith Seiji Kawamura
Keith Seiji Kawamura
My name is Keith Seiji Kawamura. I am a sansei (3rd Generation Japanese American) who grew up in San Francisco, California, USA. I took my first Japanese language class at Lowell High. For decades I wondered if it was a mistake b/c there was NO one to practice with. My classmates at CCSF (City College of San Francisco) were white, Hispanic and Chinese (either 1st or 2nd generation from Hong Kong). I could not find any on fire Japanese churches so I spent over a decade in Chinese and White churches. I had the option of learning Cantonese and that would have been useful b/c--besides CCSF & church, my Asian co-workers also spoke Cantonese--none spoke Japanese. At CCSF, I took the History of Japan. Many years later, after graduating from UCSF (University of CA) School of Pharmacy, I was dating a girl from Osaka, Japan. I just finished a year of Japanese language and culture at Mission College in Santa Clara, CA. When I tried what little Japanese I knew, Noriko said, "I understand what you are saying, but we don't talk like that!"
It is challenging being a Japanese American. The largest population of Japanese in the US is in Hawaii. In addition, I recently learned that mainland sanseis (3rd generation Japanese) and islander sanseis had a different experience. The Japanese American issei(1st generation) and nisei (send generation)  of HI were not relocated in contrast to 120,000 mainland Japanese American issei and nisei. It is hard enough being Asian. When many news articles or movies or TV try to be "inclusive," they mean whites, blacks, and in CA Hispanics. Asians aren't even considered even by the Christian movie company Pureflix. Amongst Asians, the Chinese, Vietnamese and Filipinos far outnumber the Japanese.
I guess I have been in search of what the Japanese side of Japanese American meant. RJC Academy has been very helpful. I have learned a lot from several offerings and met a lot of people who have a burden for the Japanese. This has been comforting and encouraging as well as informative.
I became interested in missions at URBANA conference (the largest such conference in the US held every 3 years originally in Urbana, IL most recently in St Louis, MO). Many years later, I went on my first STMT (Short Term Mission Trip) to Argentina with Harvest Evangelism in 2003.
In December 2016, I went to the EC (Equipper's Conference) where I learned that within 2-3 years 70-80% of Japanese young adults and teens who came to Christ in the West fall away b/c of reverse culture shock. Part of that may be b/c the West is a "me" society and Japan as well as much of Asia as well as India are a "we" or collective society. Conformity is the way of life. I read somewhere that the word "different' can be translated as "wrong." In the West the "you do your thing and I'll do mine" is considered a basic human right as long as no laws are broken. However, in the East where not fitting in --may have at one time and in some circumstances--endangered the whole group; now it is treated as a "sin"--disrupting the harmony of the group. In addition, the Japanese have a strong sense of "uchi" (my inner circle, family, company, club, company, neighborhood) and "soto" (anyone not in my uchi). So returnees (the young Japanese Christians) are looked upon as "soto" even though they were born and raised in Japan! I am happy that TEAM and other mission organizations are focusing on returnee ministry in Japan and have had a measure of success.
On Valentine's day in 2017, I arrived in Japan for the first time. After returning from a Short-Term Mission Trip to Tokyo and a prayer walk to Kobe, Kyoto, and Osaka, I found myself at a FedEx store in Sunnyvale, California, USA. It was a frustrating experience.
I tried 5X to get the clerk understand how to spell and say my name. I left in frustration w/o shipping the Japan Starbucks mug to my daughter, Sandy Chappell, in Chandler, Arizona.
The next day something amazing happened.
As I was giving a debrief of my J Trip to my wife, Chaoyu (CY), we both had an epiphany. I burst into tears when I realized that for the first time in my life no one asked me how to spell or pronounce my name. Everyone used chopsticks and ate food I loved. Everyone had black hair and brown eyes and were of similar height or if taller did not consider it strange. Because CY grew up in Taiwan, she could not identify with my childhood trauma. However, after she heard my words and saw my tears (perhaps the 1st time she saw me cry), she got it.
My trip (2/12 to 2/21/2017) required I miss two sessions of the Perspectives on the World Christian Mission class I was taking. After 5 times of pleading from the coordinator, I finally consented to create and present a power point of my STMT to Japan. I concluded that for the first time in my life I felt
N-O-R-M-A-L.
In 2017, I joined HIM (Harvest International Ministries) for a STMT to Tokyo. Our base was a hotel in Roponggi, Tokyo where we were the prayer team for the 21 Century Christian Church that was hosting a leadership conference. In addition, we visited a homeless church where we  handed norimaki and listened to the stories of a few former businessmen and prayed for them. We also prayed for attendees of the Fire Revival Church and 2 Filipino church plants. After the STMT, I stayed in Japan. I took the shinkansen (bullet train) from Tokyo to Kobe where I did my first prayer walk and visited a museum featuring the city in the 19th century.
A JR train took me from Kobe to Kyoto for my 2nd prayer walk. I was pleased to see many in kimonos and intrigued by the unique architecture of the temples and shrines. I remembered, when I was a child in SF, that  waitress' in some Japanese restaurants my parents took me to wore kimonos. I had a nice prayer time  walking the streets and watching the skyline and trains at night from the Kyoto Tower.
Osaka for my 3nd prayer walk. I had a nice view of the city from the Umeda Sky Building where I review notes from the conference and prayed for revival amongst the Christian churches and increased responsiveness to the Gospel by the Japanese in Osaka. I ended my prayer walk at Kansai airport for my flight back to SFO.
In 2018, my wife & I went to south west Japan where we visited the Hiroshima Peace Plaza and took a ferry to Miyajima island (home of the floating tori gate, freely walking deer and an aquarium). After returning by shinkansen to Fukuoka we joined 29 others for the Japan Martyrs trip (mostly in Kyushu).  We saw where "hidden Christians" worshipped during the era of Japan which was locked out from the rest of the world and Christianity was forbidden. We saw the volcanic waters depicted in the movie "Silence" where Portuguese missionaries were tortured as well as the 26 Martyrs Museum where Japanese Christians choose to be crucified (the youngest a teen) instead of denying their Savior. Another memorable stop was near Nagasaki where we learned Christian were held naked in cages during the winter. A little girl outside of her mother's cage was offered candy by a samurai. She refused saying, "the candy in Heaven is much sweeter than anything on earth." We returned to America with awe at the courage of 17th century Japanese Catholic Christians.
In 2019, I went to Hokkaido, Japan with three goals: 1) attempt the JLPT (Japanese Language Proficiency Test) N-5 (easiest and N-1 hardest) 2) STMT 3) vacation with my Taiwanese wife and young adult daughter. I succeeded in 2 and 3 but I am embarrassed to say failed goal 1. My STMT was to network my OMF missionary friend with the SDA (Seventh Day Adventist) church pastor. The Bible worker at MVJAC (Mountain View Japanese Adventist Church) asked a friend from a SDA church in Shizuoka Provence to get the name and contact info. After some emails before I arrived, I arranged for Pastor Hirada to meet Ralph and I at the Sapporo Beer Museum where we shared our testimonies over a glass of non-alcoholic beer.  Ralph arranged for us to stay at the OMF language center. Prior to my families arrival, I participated in the semi-annual OMF prayer and worship meeting where missionaries across Hokkaido gathered. After my family arrived we used our Kita Card to ride the Sapporo subway where we transferred to the train station and used our JR pass to ride Otaru where we enjoyed the aquarium, glass shops and a ferry ride. Another JR train took us to Furano where we saw the famous Lavender Fields. A train took us back to Sapporo where we stayed in an Air bnb and took a historical tour of the city. My daughter and I went to the T38 Tower in Sapporo where we got a great view of the city in July. I tried to imagine the giant snow sculptures made every February during their Winter Festival but when we went outside I was pleased by the 70 degree F Summer climate and the simple ease of walking on a sidewalk and not snow.
Prior to Covid19, I was planning on either visiting Ralph & Pastor Hirada again in Sapporo and / or visiting a friend I met at a Japanese SDA retreat near Yosemite, CA, USA who, although white, was fluent in Japanese and served as a physician in Okinawa.
I finished Japanese 1 live Winter Quarter 2020 and taking Japanese 2 online this Spring. It God permits, w/the pandemic, I will continue w/ Japanese 3 this Summer Qt.