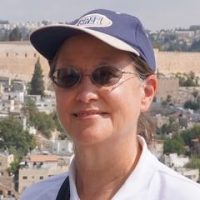 Linda Grimms
My name is Linda Grimms, and I have been married to Doug for the past 34 years.  We have two sons who have grown to be godly men – one is married and we have two grandsons. My father is in assisted living nearby. Presently, Doug and I attend First Baptist Church in Salem, Oregon.
In 2014, I felt led to retire from my 30+ year career as an attorney to be better able to follow God's leading – and that led to my studies at Western Seminary, where I recently graduated with my Masters in Biblical and Theological Studies.  From 2017 - 2019, I also took TESOL classes at Multnomah University, and I now have an advanced graduate TESOL certificate in order to be able to do community English teaching.  Prior to 2015, I was blessed to have spent 10 years serving on a small denominational mission board, helping to develop policy and caring for our field staff.
What is my connection to Japan?  We've traveled to Japan several times and I love Japan and its people.  For many years, I've felt God's strong call to be praying for Japan and for the Japanese people.  Most recently, this summer 2019, my husband and I began our prayer ministry in Japan, praying as we travel especially in rural areas, beginning in Hokkaido, in the farthest north.  We traveled through northern, central and eastern Hokkaido, and prayed along the way in every place.  Each year, we plan to return to Japan for ongoing prayer – from north to south primarily in rural areas – until we have prayed throughout Japan to its very most southern point.  We pray for God to do a mighty work, bringing the peoples of Japan to know and believe in Jesus.
Now, I hope to continue to learn more about Japan and the Japanese language.  RJC Academy and various RJC workshops and area meetings help me to learn more and to network with other like-minded people who want to reach the Japanese for Christ.  I am also supportive of the Rural Japan Church Planting Network, and we have adopted-for-prayer two rural Japanese communities under their Adopt 800 initiative. I am fortunate to be able to take Japanese language classes at Willamette University, where I am just beginning 2ndyear Japanese classes.  I have a lot to learn, and I look forward to participating in this class.