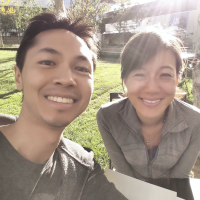 Meg Lum
Background
Born in Taiwan, and adopted into the States at the age of 3, I took on a new identity as the eldest child of a family of two children in a Chinese-American Christian family. As a bilingual child raised in Torrance, California, the multi-ethnic foundation of my upbringing introduced me to the wealth of benefits in foreign languages and cultural exchange. At a young age, my mother's Christian influence instilled in me a mind for the Lord, but it wasn't until early adulthood that I slowly developed a heart for Him and his mission.
Education and Vocation
With an affinity for community and a heart for missions through the various youth and young adult outreach and volunteer opportunities I took on at Bread of Life Church in Torrance, I pursued a path in education for my bachelor's in college. After graduating, I got married to my husband, Chris Lum (who's also taking Japan 101 and 102), and worked in many fields while adjusting to married life. 
Calling
Before returning back to the States and at the peak of my darkest chapter, I stayed in Japan for 45 days where I went off the grid to find myself. I later returned home to the States to join my husband and family after being away for a year. These were the darkest times I've journeyed through so far, a time I persecuted my own faith, questioned my purpose, and my existence to live forward.  Looking back, he planted catalysts and pockets of light through the strangers and people around me as I deconstructed everything I knew. Simultaneously, I continued my personal research on mental health within the global community, with a focus on Japan. In Fall 2019, my journey ultimately led me to pursue an invitation to join Dr. Roseline Yong at Akita University, Japan as a visiting scholar in mental health and hikikomori research. As a visiting scholar, I was given the opportunity to review her research and attend several courses taught to her medical students on mental and public health.
 
At the Moment
My husband and I currently reside in Lomita, CA, where he and I have lived for the last 5 years (with the exception of the one year we were apart when I was studying abroad in Shanghai). On a micro level, I can only describe this current chapter as a re-education by the Holy Spirit on my role as a wife and re-learning the spiritual value of marriage. My days are spent largely at home, helping my husband around the house, while using writing and illustrating as a form of recovering and healing. On a macro level, I've been seeking pathways to be connected to Japan, through secular and missional platforms. We've been involved as host families for Japanese exchange students through the Torrance Sister City Association for the last couple summers, have been active Japanese tea ceremony students through the Edosenke Los Angeles Fuhakukai, and I've been connecting with people and a local church within my community with a kindred heart for Japan. I am enrolled in Japan 101 and 102 to see how God leads.