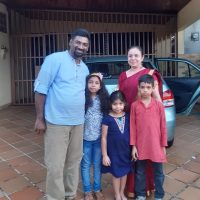 Shibu Appukuttan
Shibu Appukuttan
My name is Shibu Appukuttan, I am from Kerala, India, married to Amarilys Vega from Panama, and we are blessed with three children, Leah, Timothy, and Sarah. We live in Panama City and serving the Lord among the Asian communities.
I was born in a Hindu family in Kerala, India. When I was nine years old my mother fell sick and her health situation got worsen and she was bedridden for many months. She had visited many temples and other divine places for healing but she found no solution. One day two ladies who were evangelists came by our place as they were visiting houses and sharing the gospel. They shared the gospel with my mother and encouraged her to believe in Jesus, so she believed in Jesus and accepted Him as her Lord and Savior, and they prayed for her, and it was a miracle, that my mother got healed instantly!
Since then my mother started to go to church and also she took me and my two brothers to church, we grew up in Sunday school. At the age of twelve, I accepted Jesus as my Lord and Savior, and at the age of fifteen I got baptized, and at the age of nineteen in 1998 I joined Operation Mobilization (OM) India in order to be trained in Bible and Mission and it was a turning point of my life. Through OM I had the privilege to receive various training in India also on board the ship Doulos.
In 2009 I got married to Amarilys Vega from Panama, we both joined the ship MV Doulos in the same year 2006, I joined from India and Amarilys joined from Panama, though we joined the ship the same time for the mission training, and we spent two years on board, we never had a clue that we would be married one day. But the Lord brought us together even though we left the ship after two years. We spent three years in India and the rest of the time in Panama.
At present we are serving the Lord among the Asian communities in Panama, we have started a small fellowship where we receive people from India, Pakistan and other Latin American countries, and also we build a friendship with other Asian nationalities, people from Japan and the Philippines etc… we are continually praying for moving to Asia in order to share the gospel to the unreached communities in Asia. When I was on board the ship Doulos I had the privilege to visit Japan in 2006, during this time I saw the great need of reaching the Japanese community with the gospel, I had many opportunities to visit some of the local churches, it was my surprise, the same time shocking to see only elderly people in the churches! So I was praying that one day I would like to visit Japan to share the gospel. When I left the ship, I thought to go back to Japan but my organization OM India asked me to continue another two more years, so that thought did not work out.
When my wife decided to learn Japanese I saw her interest to work among the Japanese people one day, even before we met each other the Lord had already placed a burden on both of our hearts to move to Japan to share the gospel. So we are praying that this training, which we are going to attend would be an eye-opening and a preparation for what the Lord has for us in the future ministry.